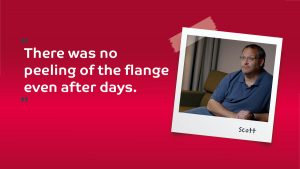 Ileostomate, Scott, was the first person to try our new Genii™ drainable stoma bag. It's the only stoma bag in the world to use a silicone adhesive which means it sticks, seals and feels like it's not even there. Here's what Scott liked best about it…
"Having a new silicone flange is really exciting"
I was diagnosed with Crohn's disease aged 17 and lived with it for 15 years. It was a very debilitating disease and so I feel that my ileostomy gave me my life back. Before, I was always looking for the nearest toilet, but I don't have to do that anymore with a stoma. I have a desk job and so I had become a bit of a couch potato but having a stoma has given me the ability to do more with Crohn's. I've started exercising more in the last six months, mainly walking and running.
I use a one-piece drainable bag and accessory products. Occasionally an adhesive remover, barrier film, flange extenders and seal to help protect my skin. We are fortunate we have access to a great market in the UK and there are lots of different stoma products to choose from.  Having the new Trio Genii™ silicone flange is really exciting. I've had a bag for the last 17.5 years and the hydrocolloid product was revolutionary 50 or 60 years ago because we could stick a bag directly onto our skin.
"The silicone product actually clung to my skin"
We are seeing lots of research about silicone products, and they are giving people a better quality of life. I found the silicone product actually clung to my skin. It's very important for people using the product to have complete confidence so they can do what they want on a daily basis. What I found so innovative and exciting about the silicone product was the fact that there was no peeling of the flange even after wearing the bag for days on end and it gave me real confidence. You almost don't know the silicone bag is there and when I was wearing it there was great flexibility. It allowed me to move around and do all the things that I wanted to do without any difficulty.
I felt like I could take up new activities and wear the bag longer without having to worry about whether it was going to come off. I also didn't feel the need to use the flange extenders. I think it's exciting about the innovation of the silicone flange and great for us as ostomates seeing the research that companies like Trio are doing. It's great that we are getting new products. It means we can continue to enjoy a great quality of life and improve that quality of life.
"It was tight on my skin even after four or five days"
I wear bags for about three or four days at a time, sometimes longer. With my old product, because they can peel more quickly, sometimes I'd have to change the bag more frequently, whereas with the silicone flange even after four or five days I was finding that it was still very tight on my skin, and it was giving me the confidence in that product.
We've seen a lot of improvements in products over the years which I feel have been mainly cosmetic but have made a real difference to people's quality of life. Seeing the silicone flange come on board I think is a real innovation and is really going to be exciting for ostomates to try to get the benefits of using a silicone product moving forward so that they can get the confidence that certainly it has given me. Look at what your existing product doesn't do for you and see if you can get those improvements from a silicone flange.
"It stayed on my skin and didn't move"
I almost felt as though I wasn't wearing a product. It's very light and clings to the skin. What I've found wearing a hydrocolloid product is that after taking a shower the hydrocolloid goes like a gel which helps it to stick back to the skin. With the silicone product it just stayed on my skin, and it didn't move. There was no peeling. There was no gel feeling afterwards. It stayed there for days on end without having to worry about it. I think this is going to give people a real choice.
About the author: Scott is a 50-year-old ileostomate who likes getting active with Genii™. We will always do everything we can to help ostomates share their stories. If you'd like to share your experience of Genii™, please get in touch.