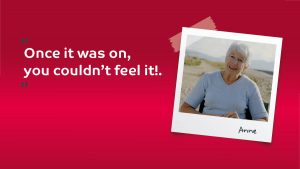 Swimmer Anne was keen to try our new Genii™ stoma bag in the sea. It's the only stoma bag in the world to use a silicone adhesive which means it sticks, seals and feels like it's not even there. Here's what Anne liked best about it…
"I love being in the water and everything that goes with it"
I've had my ostomy for 20 years. I remember dashing to the toilet in the beginning, but I never have to do that anymore. I've been lucky, I have a well-behaved ostomy. It has possibly enriched my life and made me do more than I might have done without it. I went back to work and started training to go running and completed the London marathon. I love being in the water and the sea and everything that goes with that. I also started kayaking about 10 years ago and have mastered snorkelling, paddle boarding – anything in the water.
I've always been aware that I have a bag on my tummy, so often wear shorts rather than just a swimming costume. I do try not to let it stop me doing things. My skin was very sensitive after the operation and had to be tested for various adhesives to check it wouldn't hurt skin. I used to wear Coloplast Convatec and stuck with that until this year as they have stopped making them. This new Trio Genii™ bag has come just at the right time.
"Once it was on you couldn't feel it"
I knew it was there, but it just moved with my body. I didn't feel it at all. The very best thing for me was that, after I'd been in the water, I didn't have to use my fingernails and get rid of all the gloopy glue. I could just take it off and my skin was as clean as it was when I put it on and that is just such a bonus. It meant there wasn't that after effect. It worked incredibly well. There were no gaps and although you couldn't feel it, it stuck incredibly well.
You can't feel the silicone product, whereas you can the hydrocolloid and that is massive because you can totally forget it's there. There is no wrinkling. With the new bags I can just be totally spontaneous without having to worry about taking the glue off afterwards which will be such a brilliant thing. There was no redness, no bits of adhesive left on it. I'm not saying it was as smooth as a baby's bum, but it came pretty close to it.
"There was no redness around my stoma"
Normally, when I take a bag off there is a slight redness around my stoma, but there was none of that at all. I don't like to use extras. I feel like having something stuck on my skin every day is enough. I don't want to have to use adhesive removers or chemicals, plus it's more products, it's more waste materials and as an ostomist this reduces the amount of plastic type rubbish we are producing and the chemicals we have to put on our bodies.
I think it's a real game changer because anyone who does anything where they get a bit hot and sticky, or they take a shower or bath with their bag on, is going to find that it won't make a difference. They won't have to think about adhesive remover or wipes. You'll be able to do it knowing that your bag will come off as easily as it went on and still leave your skin looking brilliant – the way it was before.
"The new silicone flanges don't leak"
The fact is unless you change the adhesive, which is what Trio is doing, there isn't much else you can do for changing a bag and the fact that this doesn't leave anything behind on the skin is just so amazing. In 20 years it's never been like that. It's just something completely different. I know a lot of ostomates who are willing to try it. They suffer from bad skin and have to use loads of products like pastes and build-up barriers to prevent leaks. You're not going to get that with the new silicone flanges because a) they don't leak and b) they don't need anything else underneath them most of the time. And because you're not introducing more chemicals onto your skin, you're encouraging your skin to be healthier. Once tried I don't think people are going to want to go back to the old style of adhesive.
About the author: Anne is an active 65-year-old who loves spending time with her grandchildren. We will always do everything we can to help ostomates share their stories. If you'd like to share your experience of Genii™, please get in touch. Request a sample and start you Genii™ experience today!