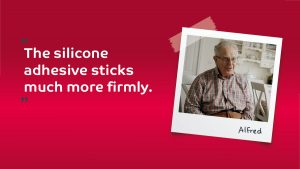 Alfred Levy was one of the first people to try our new Genii™ stoma bag. It's the only stoma bag in the world to use a silicone adhesive which means it sticks, seals and feels like it's not even there. Here's what Alfred liked best about it…
"I tried lots of different products, but they were all the same"
I had my colostomy formed in 2006 after being diagnosed with bowel cancer. It was a really difficult time. I felt alone and wondered how I was going to live my life. I'm a chartered accountant and was worried about how I would see my clients. When I went back to my job as a chartered accountant, I decided to set up a support group to help other ostomates. We listened to speakers on all sorts of topics and realised that there were different stoma products out there. When you're discharged from hospital the nurse decides what product is suitable but, in reality, you are free to choose whatever you like.
"The new silicone adhesive stuck to me much more firmly"
I started trying lots of different products. They were all pretty similar. Until I decided to take part in a trial for Trio and their new stoma bag. What amazed me was the new silicone adhesive they are using stuck to me much firmly than any others that I had used before. It moved when my body moved. If it's a very hot day you sweat, and the pouch can move and leak and that's what can cause problems. For the whole two weeks that I tried the product I didn't have a leak I didn't have any pancaking and I felt what a good product. I was sorry when I'd run out of the samples.
"It holds the pouch in place better than the others"
I'm excited about this new product and if it cures pancaking and leaks, it's the product for me. I think all ostomates will find this comfortable. It's the flexibility of it. People say hydrocolloids are flexible but they're not as flexible as silicone. It seems to hold the pouch in place better than the others. Once it's on, it's absolutely firmer than any other and you feel so comfortable. It's a psychological thing. You almost know you're not going to have an accident. If you have confidence in a product, you will use it more and more and you will find it's no longer exciting, but it's part of life.
"I think it could change people's lives"
No company has tried to create product like this. It's a totally different kind of bag – all have the same basis of glue on the back, but this silicone adhesive seems to make all the difference and Trio is the only firm to ever try it. I think it could change people's lives who are nervous. There has been nothing like this new adhesive that you are using. I'm so glad I tried it.
About the author: Alfred is a chartered accountant and keen gardener who lives in Bedford. We will always do everything we can to help ostomates share their stories. If you'd like to share your experience of Genii™, please get in touch. Request a sample and start you Genii™ experience today!