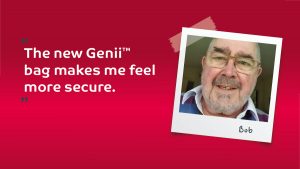 75-year-old, Bob Fitzharris, already knew about the scientific benefits of silicone thanks to his early career as a dentist. Now, he's experienced the difference himself thanks to Genii™, the world's first silicone-based stoma bag.
"I didn't have any symptoms at all"
Three years ago, I was invited to do a Faecal Occult Blood (FOB) test as part of the national screening programme for people over 60 and under 75 run by the NHS . It involves sending three poo samples off for lab analysis to detect early signs of cancer. We like to call it 'poo sticks' in our house because we're fans of A.A. Milne. Now it's only one. I did the test on the Friday and by the Monday the results came back as abnormal. At this point, I didn't have any symptoms at all, but I was invited to go for a colonoscopy for further investigation.
I decided to have the procedure without anaesthetic, as a former dentist and scientist, I like to see what's going on. It was fascinating watching every inch of the camera going through my body. I could see a mucocele of the appendix – a white bulge – The mucocele was not related to diverticulitis it was idiopathic and turned out to be a benign neoplasm of the appendix: a LAMN 1 and on the way out through the rectum I saw what could only have been a malignancy. After a biopsy, I was diagnosed with an adenocarcinoma of the rectum and, within a matter of weeks, referred to a colorectal surgeon.
"I'm not a brave man, but I chose to get on with it"
I went to meet my surgeon on my 73rd birthday and she recommended an anterior resection, which is a surgical procedure to remove the diseased portion of the rectum and bowel.  But she warned me that ending up with a stoma was a very strong possibility, but I did not hesitate. The surgery was slightly delayed as I have atrial fibrillation (an irregular heartbeat) which meant I needed a cardiologist's opinion to proceed. Once I got the go ahead, the surgery took around eight hours and within 24-hours, I was back to normal and walking around. I can't stand pain, I'm not a brave man, but you must choose whether you want to get on with it or lie down and die. I chose to get on with it!
I had an indwelling urinary catheter and looked like the Pompidou Centre in Paris – all the guts on the outside! Unfortunately, after surgery, I went into total gut stasis which meant having a naso-gastric tube and being fed intravenously. Once things started moving again, my stoma nurse made sure I could change my bag and I was discharged. At first, I was experiencing leaks and blow offs and my peristomal skin began to bleed. I'm a scientist at heart so I started trying different products. An adhesive remover spray helped a little, but I was often waking up in the night feeling moist.
"Genii™ makes me feel more secure"
All my previous bags had been hydrocolloid-based, which I know about from having been a dental surgeon. We switched from using hydrocolloids in our impression kits to silicone because it doesn't degrade as quickly. Once I knew the Genii™ stoma bag contained a silicone adhesive in the flange I wanted to try it. I have a large peristomal hernia and found it much better at creating a seal especially when used in combination with a silicone-based skin barrier spray which reinforces the adhesion.
It makes me feel more secure. I'm not worried about it suddenly blowing off or leaking and smelling. I have no worries in the daytime about this pouch coming unstuck. It is also a very soft pouch – I don't know I've got it on. My skin has gone totally back to normal because of the Genii™ bag and I've stopped using stoma rings.
My advice to other ostomates is, please be open-minded about the difference between hydrocolloid and silicone. Please don't be afraid to try something new. The longer we live with a stoma, the more things will move forward. Have the courage to try it. If you don't try it, you won't know.
About the author:  Following his career in dentistry, Bob trained for ordination in Lincoln and is now Emeritus Archdeacon of Doncaster and  Chair  of the charity Doncaster Cancer Detection Trust and Doncaster Refurnish Ltd.  He is a Freeman of the Metropolitan Borough of Doncaster. He lives with his wife Lesley in Doncaster.  They have eight grandchildren who call him Grandpa BOT (Bum On Tum). If you'd like to share your experience of Genii™, please get in touch.