Whether you've recently had surgery or you've been living with a stoma for years, Pilates is a great way of easing yourself back into the world of fitness. Gentle and low impact, the smooth, free-flowing movements of Pilates can be easily adapted to individual needs. This can allow ostomates to exercise with confidence and peace of mind.
Unsure of where to start when it comes to Pilates? No worries, we're here to help. Below, we'll explain what Pilates is in more detail. We'll offer some tips to make yourself more comfortable on the mat, and show how it can help with rehabilitation following surgery.
Can Pilates help Ostomates?
Pilates is an approach to exercise that focuses on developing strength, control, and movement in the whole body. Within Pilates, there is a lot of attention paid to core/abdominal muscle control and strength.
These benefits can really help ostomates who are looking to start an exercise regime to build strength, improve breathing practices and relieve stress and tension.
However, we would always recommend that you consult your stoma nurse before embarking on an exercise or training regime. They will be able to provide greater insight into what you're capable of, and what would be beneficial.
Pilates with a stoma: Things to remember
One of the great things about Pilates is it can be adapted so you can work at the best pace for your physical condition and comfort level. Therefore, it's important to consider the different methods, approaches, and levels of difficulty if you're thinking of taking it up. This is particularly true if you're still recovering from stoma surgery.
Any new exercise regime can be a challenge to begin with. But fret not, in Pilates many of the movements can be easily adapted and make for a very gentle but invigorating style of exercise.
Here are a few tips to help you make your next Pilates session as stress-free and comfortable as possible:
There are lots of free YouTube Pilates, it could be useful to review a few of these to learn more about Pilates and give you an idea of what to expect.
Speak with your Pilates instructor, make them aware of your stoma and any physical constraints you think you might have. This will help them adapt /modify exercises for you.
Wear comfortable clothing: As with yoga, wearing shorts, tights and a t-shirt is a good idea, so you can move freely and without restrictions.
Go at your own pace: Don't be tempted to progress too quickly and be sure to avoid moving onto high-level exercises before you're ready.
If you don't feel up to attending a class with others, then ask your local instructor if they do one-to-one sessions. A more tailored approach, and your instructors full attention may help you build confidence before joining a groups session.
Before starting your first Pilates class, why not take a look at our Yoga and Pilates guide and some positions you can try?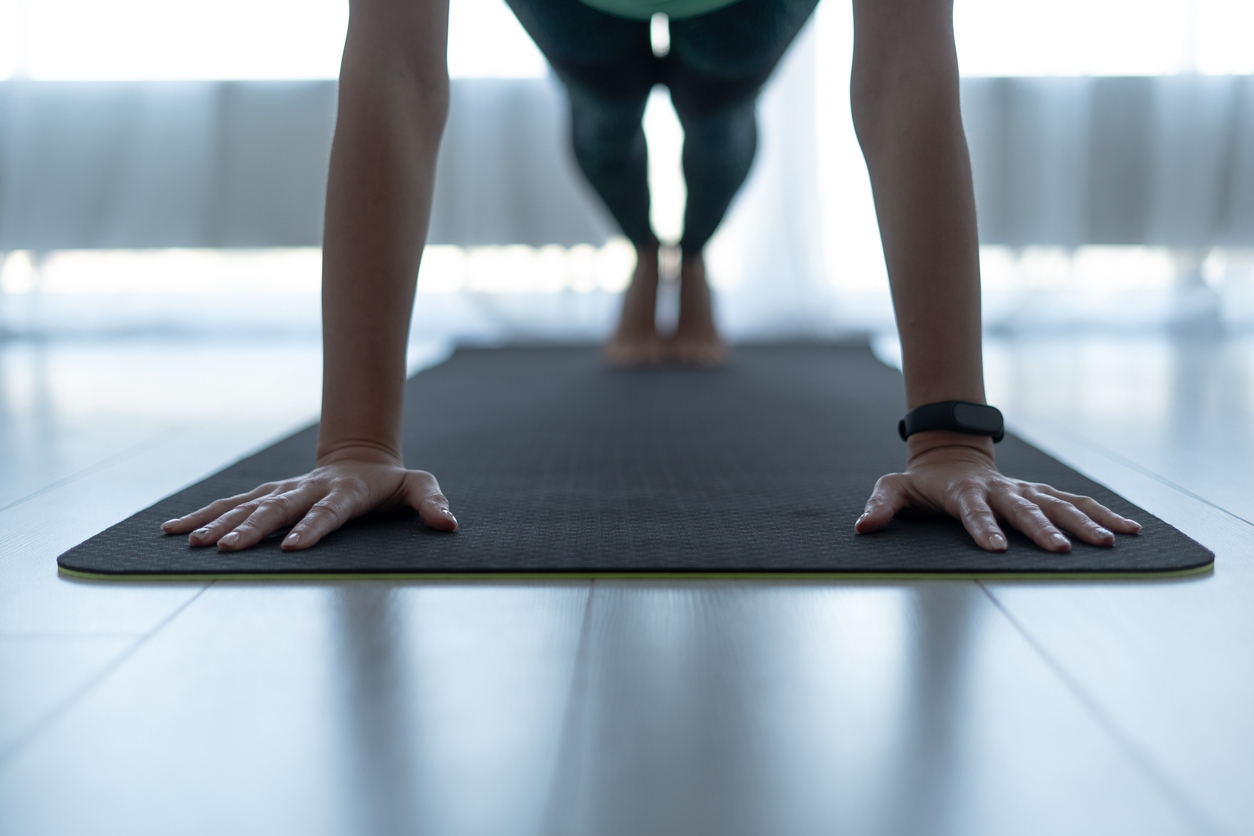 Exercising following stoma surgery
Generally, ostomates who were active prior to their surgery and have no complications can get started with Pilates as early as 12 after the stoma surgery – providing their stoma nurse has given the all-clear.
And what's more, Pilates has been shown to be an excellent means of rehabilitation after surgery. It brings greater awareness to the body and places the focus on mindful, strong movements – both of which are excellent for restoring confidence after the surgery itself.
However, major surgery is significant, and it will take time to properly heal. Pilates is an approach that links the mind to the body, an awareness which you might not have had prior to your surgery.
What matters most, however, is that you take your time. Go at your own pace and get to know the basics. It's your body, so your comfort should be a top priority.
At Trio, we're dedicated to letting you live your life your way: comfortably, safely, and worry-free. To check out our essential range of skincare products head here, and for more stoma advice, news and guest posts, take a look at the Trio blog here.