Whether you're going on holiday or travelling for family or work purposes, flying could well be a worry – especially if it's the first time you're boarding a plane since your surgery.
The good news is that your stoma bag shouldn't keep you from taking a flight, wherever you're going. We'll show you what you need to plan out and prepare before you jet off, including what to expect once you reach the airport, along with some common stoma bag travel myths below.
Preparing for your flight
Preparing to go abroad requires plenty of forward planning.
However you're feeling ahead of your journey, preparing as much as possible can definitely help bring some peace of mind before boarding.
Make sure you're fully prepared by carrying out the following:
Create a list of all the stoma equipment you'll need before, during and after the flight.
Make sure you have all your prescribed medication a month or more ahead of your flight. You may also need a letter from your GP if you're on medication that's a controlled substance.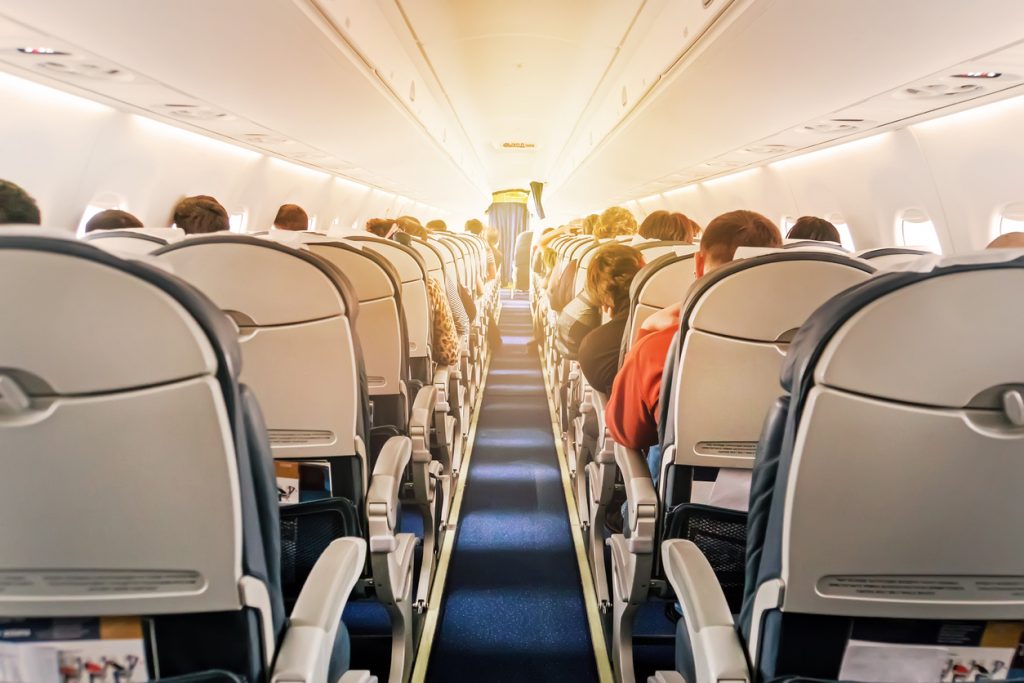 Pack a smaller travel bag with you for the flight complete with pouches, wipes, and disposable bags. This way you can make quick and discreet trips to the toilet with ease if you need to.
Bring a stoma travel card and certificate with you. This can help you avoid having to explain things to airport staff, which you may find uncomfortable. Be sure to keep it on you so it's close by. You can ask your stoma care nurse or home delivery service to help you if you're unsure of where to get one from, or you can download your own travel certificate from Colostomy UK here.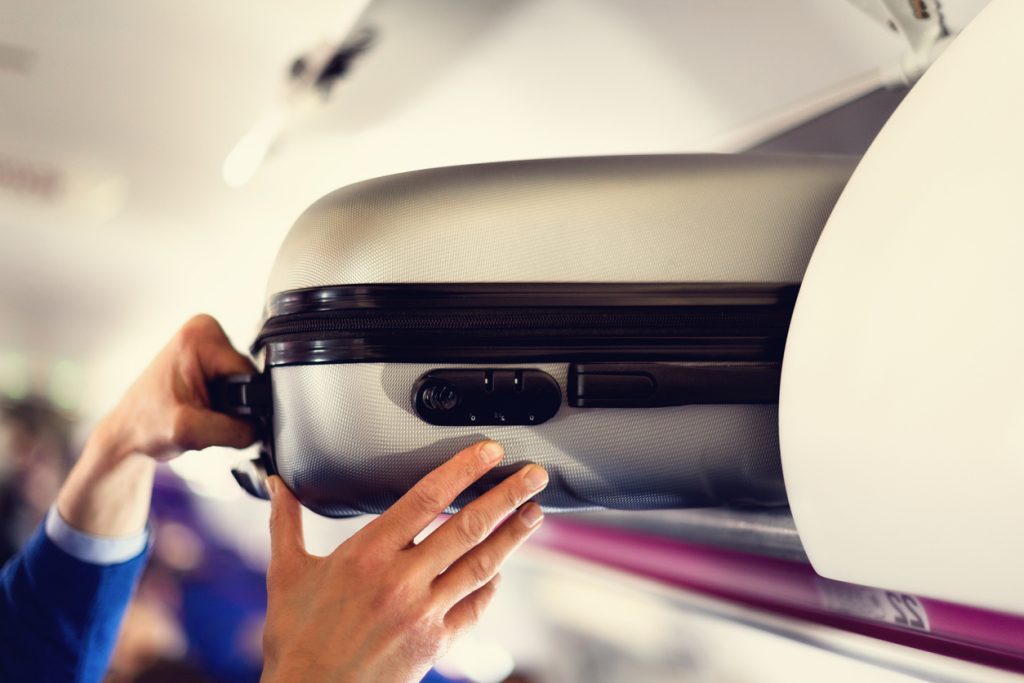 Pre-cut your bags ahead of time. You won't be allowed to bring scissors in your hand luggage as these are considered dangerous.
Likewise, you won't be allowed to bring on liquids or aerosols onboard if they're over 100ml. For this reason, it might be best to leave your usual adhesive removers and creams at home and opt for wipes instead.
Go through your bag-changing routine so you know exactly what you need to do when the time to do so arises.
Once you're at the airport
It's always a good idea to arrive at the airport early so you're not cutting things fine. It may also be worth checking with staff if you can sit as close to the plane's toilets as possible. You may be able to do this at the booking stage.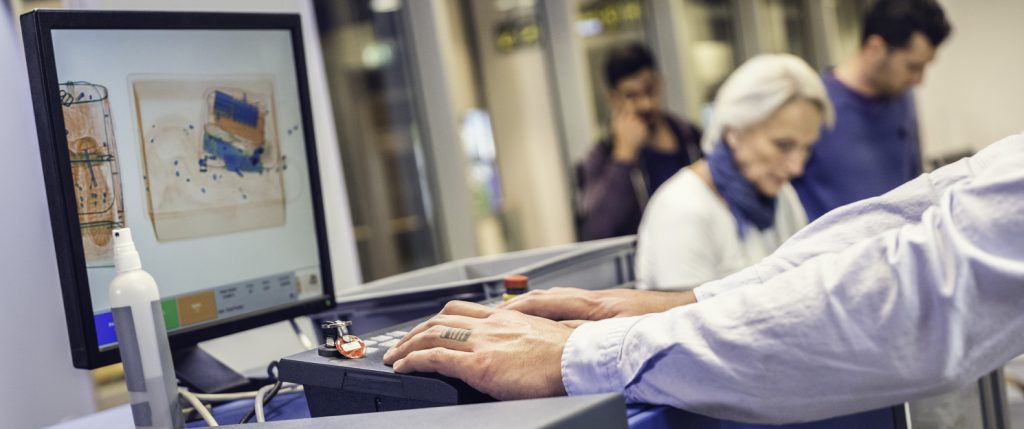 If you have time, you may want to change your pouch before getting on the plane, but if not, it's a good idea to at least empty the contents (if you use a drainable bag).
Flying on the plane
Once you're in the air, the nerves might kick in. But don't fret, stay calm and collected with these handy tips:
Stay hydrated with plenty of water while you're onboard. The humidity in the plane's cabin is low and causes all passengers to feel dehydrated. Ask the cabin crew for some water and keep sipping to keep dehydration at bay.
In a confined space, you may be worried about the smell when flying. If so, put some odour drops in your bag. A small can of deodorant can also help if frequent trips to release gas or empty your bag are likely.
In the event of any leaks, the stoma travel bag you brought in your hand luggage will be able to help. If you're comfortable with doing so, it may be worth speaking to cabin crew members about your needs, so they can do what they can do to keep you at ease too.
If you're concerned about any unwanted sounds your stoma bag might make, then don't forget how noisy a cabin is. Along with general chatter and the sound of the plane itself, most passengers will have their headphones or be trying to get a little sleep. It's unlikely that the noise of your stoma bag will be enough to disturb anyone.
Some airlines and tour operators permit additional hand luggage for medical supplies, so it's worth checking when you book. This could mean you can take all your stoma supplies without eating into your main allocation.
Stoma travel myths – debunked
"Will my bag inflate while I'm on the plane?"
The cabin pressure isn't likely to affect your stoma bag. But if it does, a quick nip to the toilet to release the gas or change the pouch will do the trick. Problem solved!
"Do I need travel insurance?"
While you don't need travel insurance before you go abroad, it's well worth looking into. We'd recommend shopping around, as a lot of the big-name insurers tend to be expensive, and won't cover you for existing conditions. Insurance companies that specifically cover cancer patients tend to cover existing conditions, without the hefty price tag of other insurers.
If you're unsure, get in touch with Colostomy UK, the Ileostomy Association, or the Urostomy Association – they'll be able to point you in the direction of insurance companies that can help you out.
For more helpful advice on travelling with a stoma, download our printable A4 factsheet here, or for a first-hand account of travelling to the Tokyo Paralympics, check out these extra tips from ostomate athlete Fran Brown.
At Trio, we're dedicated to letting you live your life your way: comfortably, safely, and worry-free. To check out our essential range of skincare products head here, and for more stoma advice, news and guest posts, take a look at the Trio blog here.