New appointments also include Chief Financial Officer, Chief Technology Officer and Non-Executive Director
August 2021 – [Skipton-based / Knutsford-based / UK] ostomy specialist Trio Healthcare (Trio) has bolstered its senior leadership team through a series of key appointments, including new Chief Executive Officer Chris Lane. Lane will be stepping in for former CEO Lloyd Pearce, who will assume the role of Chief Technology Officer.
Lane will be moving into the CEO role having acted as Trio's Chief Operating Officer over the last two years. He will drive forward the business' commercial and manufacturing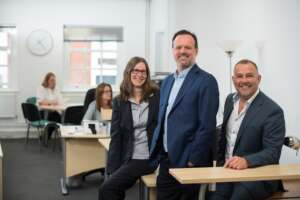 operations as it gears up for the global launch of its innovative product range, Genii™ .  The launch will significantly advance Trio's share of the international ostomy products market, currently valued at $1.5bn.
In his new role, Pearce will oversee the company's award-winning R&D team, having been fundamental to the development of Trio's proprietary breathable silicone technology, Sil2™.
The business has also promoted Helen Jennings from Finance Director to Chief Financial Officer. Jennings' is a Chartered Accountant and has previously worked for Deloitte and Crawford Healthcare. She assumes responsibilities from Chief Strategy Officer Spencer Kerry, who oversaw the completion of a circa. $10m funding round from SWK Holdings (SWK) in July this year. Kerry will move into the role of Non-Executive Director, advising on Trio's rapid international expansion.
The appointments follow key international hires made by the company in April, when it welcomed Christian Stegle as business director for Asia Pacific, and Hussain Malkawi, business director for the Middle East.
Trio was founded in 2006 to challenge a lack of innovation and new product development in the ostomy accessories market. The company's patented, hybrid silicone formation, Sil2™, is designed to provide ostomates with products that are more breathable and gentler for the skin, as compared to traditional ostomy products. It forms the basis of Trio's Genii™ , the first bag to use breathable silicone as adhesive, launched in the UK this year.
Chris Lane, CEO of Trio Healthcare, said: "It's an incredibly exciting time to be part of the Trio team, and I'm grateful for the support of the business as I assume the role of CEO. Lloyd has played a pivotal role in Trio's growth over the last 15 years, and it is a natural next step for him to assume the new role of CTO where he will continue to inspire our team to push boundaries in ostomy R&D. I'm delighted also to welcome Helen into her role as CFO. Her experience and diligence places the company in very good hands.
       "As we continue to grow rapidly and outpace our competition, our sights are firmly set on delivering our unique technology to a growing number of international markets. We have spent a number of months ensuring everything is in place for the successful launch of our new stoma bag range, in order to replicate the success it has already seen within the UK ostomy market. As ever, our commitment to improving the quality of life for those living with stomas by challenging the lack of innovation in the ostomy market is steadfast. We have the right people, R&D prowess and expertise in place to truly make a difference to ostomates across the globe, and I'm honoured to be leading this."
Lloyd Pearce, Founder & Chief Technology Officer, commented: "I wish Chris, Helen and Spencer all the best in their new roles, and am grateful for their support as I step into the CTO role. It has been, and continues to be, an enormous pleasure and source of great pride to see Trio grow, and the company is well-positioned for truly transformational growth under Chris' astute guidance. I am excited to oversee our portfolio of world-beating silicone technologies and explore future innovation opportunities as CTO, continuing to work alongside the very best in the industry."
ENDS
Press contact:
Natalie Topham, MC2
Nataliet@thisismc2.com
07534 212288
About Trio Healthcare
Trio Healthcare was founded in 2006 A leader in stoma care, the company focuses on addressing the unmet needs of ostomates around the world, improving quality of life with its advanced healthcare technology. Trio hold patents for a novel silicone-based breathable technology, developed to be gentler to the skin and reduce healthcare spending. The globally unique innovation saw the company win the Queen's Award for Enterprise 2011 and 2018.
Trio Healthcare has offices in Knutsford, Cheshire, and manufacturing facilities in Skipton, North Yorkshire. It received investment from Impel Health Catalysts in 2019, to help accelerate the company's growth.