Ostomy specialist hires new international directors as it expands export operations
Trio Healthcare is targeting significant global expansion after appointing new directors within key regions. Christian Stegle joins as the company's Business Director for Asia Pacific, based in Singapore, and Hussain Malkawi has taken up post as Trio's Business Director for the Middle East, based in Dubai. Stegle and Malkawi aim to support the introduction of Trio products into over 20 new countries over the course of 2021.
It comes as the company also agrees a new distribution partnership allowing its products to enter the Republic of Ireland for the first time. The ostomy specialist has partnered with medical device distributor Ceannaire Medical, to serve ostomates and stoma care clinicians within ROI and Northern Ireland, enabling Trio to significantly grow its footprint within the Irish ostomy market.
Stegle has over 20 years' experience within the medical device industry and close to 15 years in the Asia-Pacific region, having spent time with Smith & Nephew in Singapore, and global wound care leader Acelity. Malkawi joins with over two decades of experience in healthcare, at the likes of Molnlycke, Crawford Healthcare and Abbott Laboratories.
Trio recorded international sales of £1.1m in FY20, representing double digit growth on previous years. Its silicone-based products are developed and manufactured at its Skipton site and exported into 30 countries.
After receiving significant funding in 2020 from the likes of HSBC UK and US-based SWK Holdings Corporation, the company has increased its global share of the ostomy products market by continually investing in R&D and the expansion of its Skipton manufacturing facilities.
Trio was founded in 2006 by CEO Lloyd Pearce. The company's patented, hybrid silicone formations are designed to provide ostomates with products that are more breathable and gentler for the skin, as compared to traditional ostomy products. It is targeting further global growth this year ahead of a significant new product launch that will represent a first for the ostomy market.
Chris Lane, chief operating officer at Trio Healthcare, said: "Alongside investment in our UK operations, targeting new countries and expanding in our existing territories will help to significantly further our position in the global ostomy market. The MENA and Asia Pacific markets in particular are high value and rapidly growing, so it's vital we have a dedicated presence there, and we're thrilled to have Christian and Hussain join the team. Their extensive knowledge and experience within their respective regions will enable us to gain a foothold across a wide range of new countries.
"As well as targeting growth further afield, European exports remain a priority, and we have been able to record significant sales revenues on the continent via key new partnerships with the likes of Ceannaire. Our R&D challenges the lethargy within the market and means that we can ultimately provide ostomates across the globe with greater choice when it comes to their day-to-day stoma care. It's an area within the medical devices industry that has attracted less attention than other conditions over the years, but is primed for new developments that genuinely improve quality of life for patients and ease healthcare burdens for clinicians."
Christian Stegle, Business Director Asia Pacific, Trio Healthcare, commented: "Trio is a fast-growing, ambitious team that has the technology and experience to truly disrupt the provision of ostomy care in the region, where there's increasing prevalence of conditions typically associated with stomas, such as colorectal cancers. Trio's focus on supporting ostomates with suitable products will play a valuable role in stoma care across Asia Pacific, and I look forward to driving our growth here, a key strand of the business' international growth plans.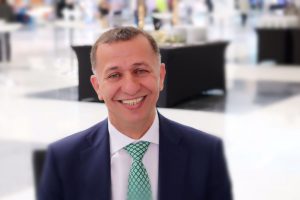 Hussain Malkawi, Business Director MENA, Trio Healthcare, said: "The sustained global growth Trio has enjoyed in the past year is testament to the influence this innovative Northern manufacturer is having internationally. We've already made great progress within the Middle East, with positive evaluations of Trio products and listings within UAE, Kuwait and Qatar. I'm delighted to be onboard to further our presence in a region that is quickly growing within the ostomy market."
29th April 2021