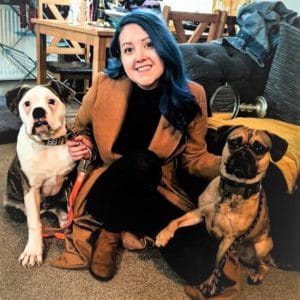 Many people ask me "how is it shielding?" Or, "what is life like being in lock down?" My reply, it's the same! Lock down, or no lock down, those living with a chronic condition are often used to limitations and having to be careful. As my IBD nurse said "it's better to be safe than sorry".
The hardest part for me has been the delay in medical procedures and not having the same access to my healthcare team as I did before.
I was due to have surgery to remove a fluid collection where my rectum used to be, this has unfortunately been cancelled for the foreseeable future. The fluid collection is causing a lot of pain and pressure on my barbie butt which makes daily life tasks harder such as; standing and doing the dishes, cooking a meal or going for a walk.
Not having the surgery has also had a knock on impact on me receiving the medication I need to control my Crohn's and Behcets Disease.
I have also been living with the feeling of having to be constantly on guard for my health and the fear of 'what could happen' and not wanting to go into hospital. Getting access to support has often been challenging due to symptoms of my conditions presenting as COVID, thus making it harder for my GP and IBD nurse to get the right support for me. It has been tough both physically and mentally.
My partner has been such a great support to me during this time. Taking control of the daily tasks about the house, cooking most of the meals and providing cups of tea and hugs on those most difficult days.
I have found taking time our for myself has really helped, and would really recommend to anyone struggling to take time for self care. I like to cuddle up in bed and get lost in a murder mystery, with every twist and turn focusing my mind on what might happen next . Or I simply like to talk! Chatting regularly with friends Caring for your mental health is just as important as looking after your physical health.
For all the right reasons resources have been focused on this collective fight against COVID19 and I am positive that with the roll out of the vaccine things are going to get back to some form of normality.
I know I can't wait to get back to walking my dogs!
View other stories from ostomates